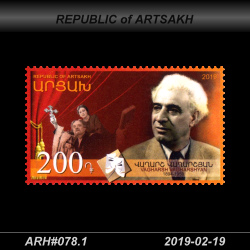 19.02.2019 – ARH#78.1
Nennwert * Denomination:

200 Dram



Motiv:

Wagarsch Wagarschjan (1894-1959), armenischer Schauspieler und Regisseur


Subject:

Vagharsh Vagharshyan (1894-1959), Armenian actor, director and playwright



Auflage * Quantity printed:


4.800 Stück (in Kleinbogen mit je 8 Marken)
4,800 copies (in sheetlets of 8 stamps each)



Armenische Inschriften * Armenian inscriptions:




ARM:

ԱՐՑԱԽ




 DE 

ARZACH


 EN 

ARTSAKH


ARM:

֏

(Dram)


ARM:

վԱՂԱՐՇ վԱՂԱՐՇՅԱՆ




 DE 

WAGARSCH WAGARSCHJAN


 EN 

VAGHARSH VAGHARSHYAN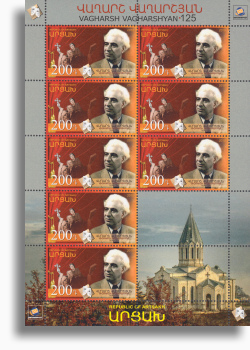 Kleinbogen * sheetlet
Auflage:

600 Kleinbogen mit je 8 Marken (2×3+1+1) = 4.800 Marken ARH#78.1


Quantity:

600 sheetlets of 8 stamps each (2×3+1+1) = 4,800 stamps ARH#78.1



Armenische Inschriften auf dem Bogenrand * Armenian inscriptions in the margin:




ARM:

վԱՂԱՐՇ վԱՂԱՐՇՅԱՆ




 DE 

WAGARSCH WAGARSCHJAN


 EN 

VAGHARSH VAGHARSHYAN


ARM:

ԱՐՑԱԽ




 DE 

ARZACH


 EN 

ARTSAKH

▲ Wagarsch Bogdani Wagarschjan wurde am 2. Februar 1894 in Schuscha (Schuschi) geboren. Er war ein sehr erfolgreicher sowjet-armenischer Schauspieler, Regisseur und Dramatiker sowie eine bedeutende Persönlichkeit des öffentlichen Lebens, z. Bsp. als Abgeordneter im Obersten Sowjet der UdSSR. Wagarsch Wagarschjan starb am 6. Mai 1959 in Moskau.

▲ Vaghar Bogdani Vagharshian was born on 2 February 1894 in Shusha (Shushi). He has been a very successful Soviet Armenian actor, director and playwright as well as a significant personality of public life, for example, as a Member of the Supreme Soviet of the USSR. Vaghar Vagharshian died on 6 May 1959 in Moscow.